Traveling within and outside the country has its own demands and if you're one who is always gunning for the gentlemanly looks, being on the road should not even deprive you of this privilege. It is unfortunate though, that lots of people still have to deal with various sorts of problems finding the best travel electric shaver to fit properly in their luggage or travel plans.
With a view to getting around the problems of shaving while on the road, we went into the markets to research solutions to this problem and we uncovered some really good options in the process. So, before we go deep into our recommendations, why not let us check out some of the best things you'll need in a good electric shaver.
What Makes A Good Travel Shaver?
Answering this question will help you understand the basic things you'll need in your perfect electric travel shaver and answering this question has to do with some of the following.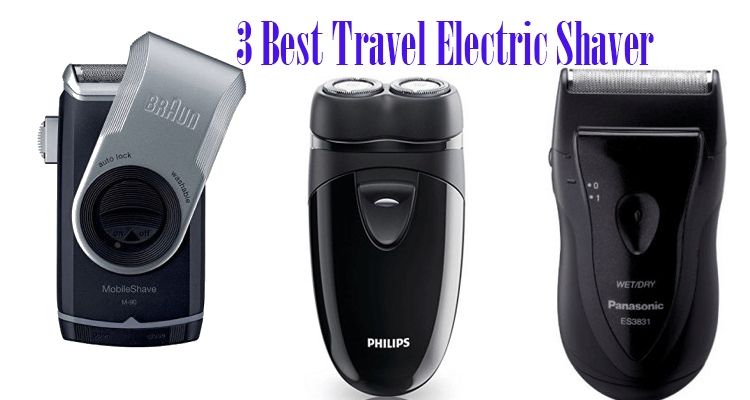 Recharge shavers or battery-powered options?
Personally, I'd go for battery-powered shavers such as the Braun M90 Mobile Shaver over rechargeable ones. My decision will solely be based on the ready availability of these batteries as well the added benefit of escaping wire clutter and power cords. The power cord could be problematic as they can be easily forgotten back home, in hotel rooms, or just about anywhere.
A good shaver should have a protective lock and cap
Because of the designs of these appliances, it is better they have these special protective mechanisms. Having a locking mechanism would help prevent the shaver from turning on accidentally and a protective cap would also help prevent mechanical shock due to sensitivity, especially in foil shavers. The Philips Norelco PQ208/40 Travel Electric Razor comes with a protective cap as well as a cleaning brush for easy cleaning.
How compact is the design?
A good travel shaver should be compact and portable enough for travel. It should be lightweight and easy to store even in small luggage.
>>Don't Miss: Best Electric Shaver Under $100
Just in case, the power brick should be small
If you decide to go for an electric travel shaver that is rechargeable and does not use the regular AA batteries, be sure it then has an automatic voltage converter, and be sure the charger is also as compact as possible.
How about the pricing and value?
Although your electric travel shaver won't mesmerize you with the powerful performance of a full-fledged electric shaver, it should still be enough to give you decent performance and great value as regards what it costs. There are some of these really great affordable but excellent travel shavers such as the Braun M90 that you'll find out later in our recommended products section.
Choosing the Best Travel Electric Shaver for Your Journey
We've come to the point at which we'll make direct product suggestions to make your shopping process easier. We'll review three of the best portable travel razor available on the market today.
1. Braun M90 Mobile Shaver: [Best Portable Travel Razor]
The Braun M90 Mobile Shaver delivers clean and precise shaving anywhere and anytime you want it. This shaver is designed for travel as it has a compact design and size and still offers excellent hair shaving performances.
Product Highlights
There's more to the Braun M90 than sheer compactness and portability. The shaver has a wide foil designed to float and easily clear hairs whether short, long, coarse, or thin. The shaver has an inbuilt trimmer that helps with getting the best results when trimming special areas such as mustaches and sideburns without consuming much of your time. The precision trimmer, as well as the wide foil, enables the Braun M90 to deliver excellent shaving results. It is powered by regular AA batteries and so you won't worry about carrying cords around for power recharging. There is also a protective cap to protect it while out of action. Cleaning is also a breeze as the Braun M90 can be easily cleaned under a faucet.
Whether you have long or short hair, the Braun M90 is a delight for every traveler and can save you the hassles of traveling with bulkier shavers that may get in the way of your journey. It is affordable, compact, and highly functional. The Braun M90 is what you need for a smooth, clean, and precise shave.
2. Philips Norelco PQ208/40 Travel Electric Razor: [Best Travel Shaver]
The Philips Norelco is also another great choice when you have to travel. It is compact, functional, and excellently designed to fit for a smooth and clutter-free journey.
Product Highlights
The Philips Norelco PQ208/40 Travel Electric Razor is battery-powered and so you won't have to worry about carrying power cords around. The design is very compact and so portability is not an issue. It comes with a protective cap to shield it from mechanical shocks when it is not working as well as a cleaning brush with which you can easily clean it after every action. It's got a two-year warranty as well and is designed to offer an excellent performance day-in-day-out. When you need the best value from your shaver, the Philips Norelco PQ208/40 Travel Electric Razor has got really incredible value. It is quite affordable and can be yours for less than $20.
The Philips Norelco today is one of the most compact, portable, and affordable electric travel razors. It is no doubt one of the best battery-operated shavers and along with its affordable pricing, it is no doubt the best travel electric shaver for those operating within a tight budget.
3. Panasonic ES3831K Electric Travel Shaver: [Best Budget Electric Shaver]
If one particular shaver should get the crown for being really valuable when reviewed for the cost-to-performance ratio, then this Panasonic ES3831K Electric Travel Shaver should get the crown. Let's take a look at some of the highlights.
Product Highlights
The Panasonic ES3831K Electric Travel Shaver retails at an incredibly low price but doesn't call it cheap. It's got a powerful motor with about 8500 RPM motor speed and an inner blade angle of 78-degree. The shaver is assembled and made in China by the popular Panasonic electronics brand and the ergonomic design ensures It does not only comfortably fit into your luggage but still easily feels good to use. It is powered by two AA batteries and comes with accessories that include a cleaning brush and a travel pouch. The performance is energetic and it has the wet/dry suitability over most of the other models we reviewed.
The Panasonic ES3831K Electric Travel Shaver is built to deliver powerful shaving with its great power package. It is suitable for both wet and dry shaving and it's got a ridiculously low price that will make it the perfect value purchase you've made in a while.
Verdict
So while you can choose either of these three, the Panasonic ES3831K Electric Travel Shaver offers great power for shaving even thicker hairs at an affordable price. The Braun M90 is known for its smooth, precise shave with the inbuilt trimmer, and the Philips Norelco will wow you with its great functionality that has made it the choice of many journeymen. All of these promise great value and you can't go wrong with either.
Conclusion
So, now you have all the information at your fingertips. These three affordable electric shavers are the best in their class when it comes to value and functionality. They've got great powers that exceed their small and compact size and would easily give you the clean shave you desire even when you're traveling. Choose your pick from these and watch how they'd turn around your experience.