A lot of ladies loathe the sight of unwanted body hair and electric shavers are like a godsend when you plan to get rid of this. There are different types of electric razors on the market and choosing the best one for your body may seem a bit of a challenge. So, after reviewing different popular models and brands, we followed up with accessing the feedback of users and experts and came up with this review of the best electric shavers for women to rid their bodies of unwanted hair. Sit back, relax and let's quickly go through this together so you can have that beautiful outlook you've always longed to have.
Why do women need electric shavers?
Men are considered the primary users of razors but that is not to mean women do not need this for their own use too. If there is anything women hate to see as much, then having hairs on their legs or on their arms is it? As much as they'd want to shave this off so it does not get in the way of their outlook and appearance.
Women need specially-designed electric shavers made specifically for the female folks although most of the best electric shavers for men would work just as great for women. Unlike traditional razor blades, the best women's electric shaver would save you more time, less stress, and more goodness for your skin.
Important Things to Consider Before You Buy That Shaver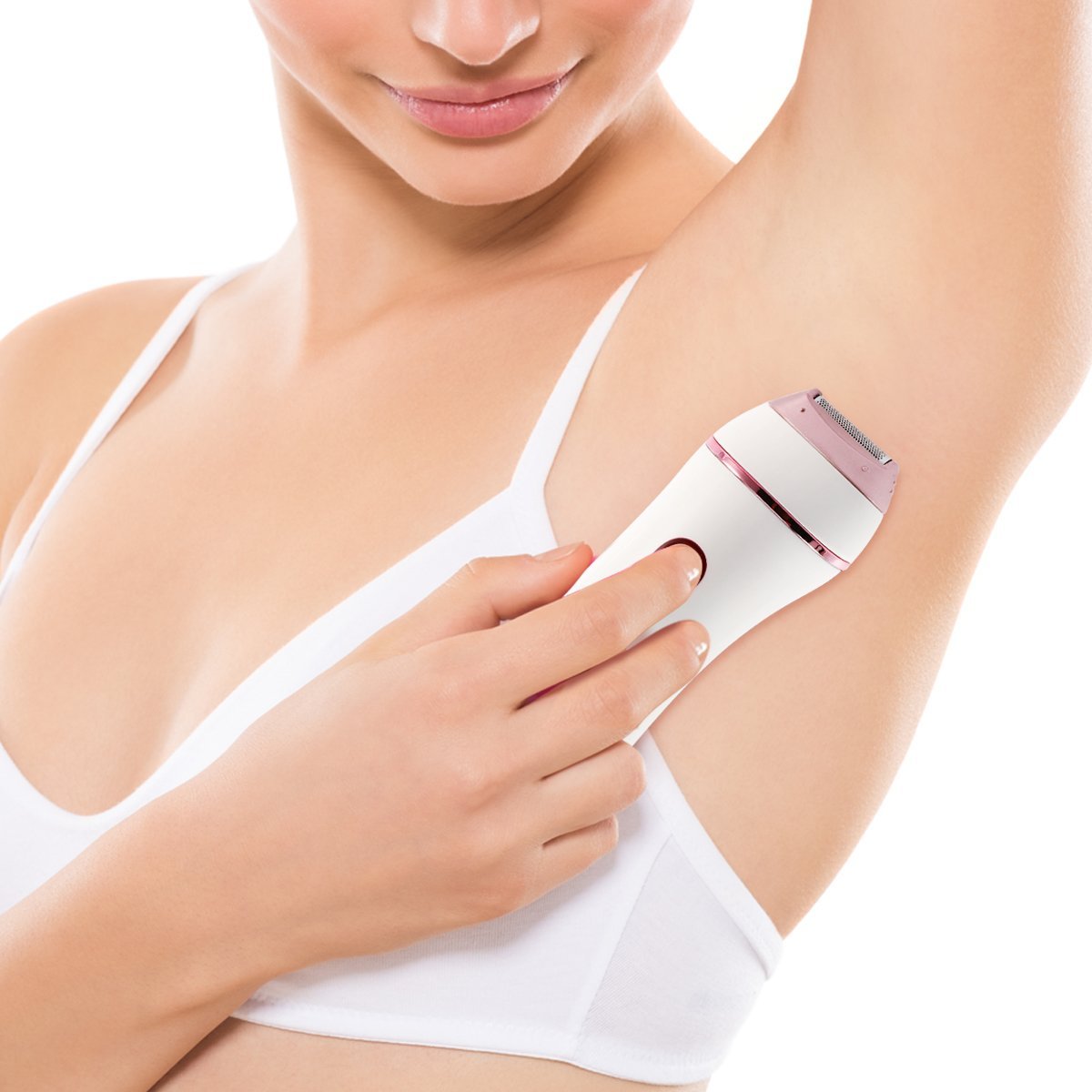 It's understandable that you'd want the best electric shaver for women among the lots on the market and here at BestShaversZone, that's what we do best. Of course, there are a few things you should note when it comes to buying an electric shaver for women. We'll break this into several units below to help you make the best decision.
Battery & Charging Considerations
You don't want to get frustrated with your shaver and so it's important you go for one with enough juice to keep you tidy each time you need it. So, be sure you're picking one with at least a satisfactory battery life. You should also consider a handy charging unit so you can always get it powered whenever you want.
Wet Shaving/Dry Shaving Considerations
While some shavers are made specifically for dry shaving, some, such as the Panasonic ES2207P, are capable of handling both dry and wet shaving. As some can also be used in showers, bathtubs, and the outdoors, some are not made to handle this. Whatever you want, ensure you have it specified before making your purchase. Although there are some electric shavers capable of all these functions, they usually retail at more expensive prices.
Ease of Cleaning & Maintenance
Shaver's that are easy to clean are better. With some of the best women's electric shavers, you can simply clean by rinsing in water and some even come with an automatic cleaning dock.
Plugged In/Out Shaving
There are some chargers that would allow you to shave even when plugged in for charging. Some, on the other hand, would not. If you'll be getting a plugged-in and shaving-compatible shaver, be cautious of using this with water though. If you find one like this, you may check if it has a long power cord so shaving can be easy while charging. Other features may include auto shut-off after a full charge to prevent damage to batteries as well as low battery warning notifications.
3 Best Electric Shaver for Women Review
1. Panasonic ES2207P Ladies Shaver: [Best Electric Razor for Women]
Our Rating:

(4.1 / 5)
The ergonomic design of the shaver makes it so comfortable and easy to use. It eliminates the need for trailing cords as the shaver plugs directly into wall sockets with the charging stand plugs. This fully rechargeable electric shaver is compatible with both wet and dry shaving and the hypoallergenic blades make it a great choice if you have sensitive skin. The pop-up trimmer is the icing on the cake as it can be used to trim less accessible areas such as bikini lines.
If you are looking for the best electric shaver to remove hairs from your legs or arms or face, this highly affordable product from one of the world's biggest brands will perfectly save the day.
2. ETEREAUTY 4in1 Ladies Electric Shaver: [Best Lady Shaver 2018 for Women's Legs]
Our Rating:

(4.3 / 5)
This ETEREAUTY 4in1 Ladies Electric Shaver is one of the most sought-after women's electric shavers, and for good reasons. It shaves hair, trims, and cleans the skin as perfectly as you'd want. You can use it in the bath as it is waterproof and it can easily work with your shaving gel or cream due to the fact that it can handle both wet and dry shaving. It comes with four interchangeable heads. The first head handles larger areas like the legs while the second head is a precision trimmer. The third and fourth is a trimmer and a facial cleaning brush respectively.
Waterproofed, rechargeable, comfortable for use, and highly affordable, this ETEREAUTY 4in1 Ladies Electric Shaver is definitely one of the best electric shavers for women available right now.
3. Philips SatinShave Essential Women's Electric Shaver: [Best Budget Electric Shaver for Women]
Our Rating:

(4 / 5)
Although most electric shavers are still within the affordable range, this Philips SatinShave Essential Women's Shaver takes this to a whole new level.it comes fitted with a hypoallergenic foil that works smoothly and effortlessly on your skin. The battery-powered shaver is cordless and is suitable for both wet and dry shaving. The compact and ergonomic design ensures it can be used easily and comfortably. Along with all these excellent features, the shaver still comes with a travel cap to help when you are on the road.
With lots of excellent features and a ridiculously low price, the Philips SatinShave Essential Women's Electric Shaver is your bargain buy and offers the greatest value you can find in most of the electric shavers around.
Tips
Simply put, the three shavers reviewed above are our top picks when it comes to value, ease of use, reliability, as well as being friendly to the skin. Either of the three would do fine for your skin to have the flawless looks you want.
Frequently Asked Questions
Conclusion
Although the market for women's electric shavers is still in its early stages of development, these shavers can save you the stress most people have to go through for flawless, hair-free skin. These best electric shavers for women would not only save you time and stress but would save your skin from the possible impact of traditional razors and the many other less effective shavers on the market.