Panasonic ES-LV95-S Arc5 is a great shaver that is designed to trim even the toughest facial hairs. It uses a unique 5-blade system that adjusts automatically according to the coarseness of your beards. The shaver comes with advanced features as compared to other shavers which make it one of the most preferred shavers in the market today. In this Panasonic ES-LV95-S Arc5 electric razor guide, we shall cover an in-depth analysis of this shaver together with its pros, cons, and reasons why it is among the best you should consider. Let us now start with the features.
Our Rating:

(4.5 / 5)
Features of Panasonic Arc 5 ES-LV95-S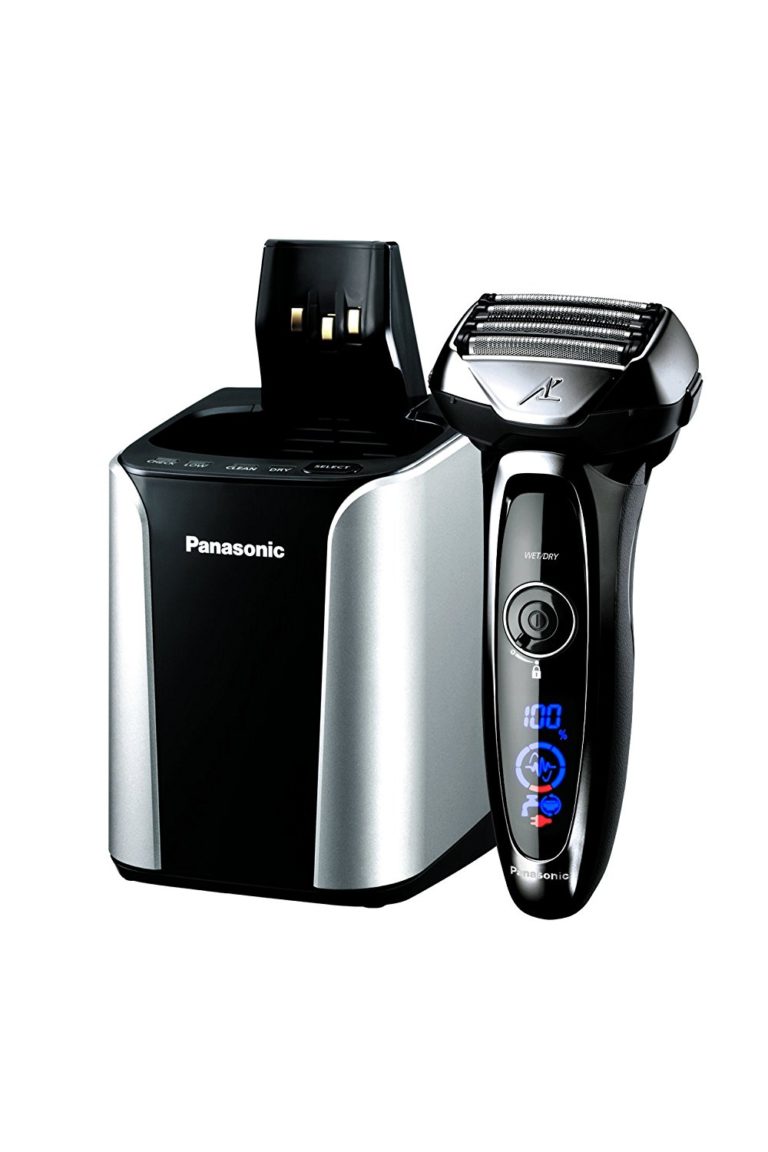 Powerful motor
Panasonic ES-LV95-S Arc5 has a powerful motor that delivers approximately 14,000 cuts per minute. When you add this to the 5-blade system, it offers about 70,000 cuts per minute. This is an important feature, especially for those with tough beards who need to shave fast.
Flexible Micro-Foil Pattern
It contains flexible micro foil patterns which cover the blade to protect your skin. These foils help to capture, hold and trim different types of hair. They are designed in a way that allows them to lift up facial hairs that lay flat, stubborn hairs, or hairs that grow in different directions. This ensures you get a closer shave which you cannot get from any other foil shaver.
Pivoting head
Panasonic ES-LV95-S Arc5 electric razor has a multi-flex shaving head which allows the 5-blade shaving head to reach even the difficult parts of your body like the neck area. This means that the shaving head does not only pivot back and forth, but it is also able to rotate from side to side. It is an essential feature that helps you to shave the chin area, jawline, and neck area.
Active shaving sensor
Unlike others, this one has a sensor that detects the density of your facial hair. In dense areas, it increases the power and decreases pressures in areas with fewer hairs.
Wet and dry shaving
Do you enjoy using a shaving cream when shaving or do you just prefer to cut without using anything? This shaver allows you to use either dry or wet shaving. If you are one of those men with sensitive skin, the 5-blade shaving head may irritate you. It is advisable to use shaving cream to prevent this.
Pop-up trimmer
If you are searching for a shaver that comes with a pop-up trimmer to help you trim your beards, sideburns, and mustache, you need to consider this. It ensures that you have everything you would require for all your grooming needs.
Battery
Panasonic ES-LV95-S Arc5 electric razor uses a Li-Ion battery which lasts for about 45 minutes when fully charged. It takes one hour to charge. On top of that, it has an LED display that shows the status of the battery or when the shaver needs some cleaning.
`
Accessories
You will get the following items in the box
Charging cable
Clean/charge station
Cleaning cartridge
Cleaning brush
Travel pouch
Shaving performance- This is one of the most important things to consider in a shaver. Arc 5 provides better performance as compared to the Braun series 9. This is because Arc 5 has a strong motor as compared to the Braun series 9.
Wet/ dry application – You can use Arc 5 with shaving cream or gel unlike the Braun series 9. This means Panasonic Arc 5 allows both wet and dry shaving.
Comfort level – Braun series 9 is more comfortable than the Panasonic Arc 5. Braun series 9 contains micro pulsation which is very gentle on your skin.
Long hair – Panasonic Arc 5 includes a 5-blade system which enables it to trim long and stubble hairs more easily as compared to when you use Braun series9.
Why should you buy Panasonic es-lv95 arc5?
It has a 5-blade system which means it is more efficient compared to other shavers.
It has a strong motor.
You can use either wet or dry shaving.
Pros
Uses a 5-blade system to ensure you get a close shave
It has a powerful motor
It allows either wet or dry shaving
Universal voltage
Easy to clean through the cleaning station
It has a pivoting head and a good LCD
2-year warranty
Cons
Noisy
Can irritate those with a sensitive skin
Blades are a bit expensive
It has a very large head and shaving the chin area may be difficult
Verdict
Panasonic ES-LV95-S arc5 electric razor is a great product for those in need of a quality shaver that delivers a close shave without irritation. The self-adjusting mechanism enables the shaver to reduce facial irritation. The quick charge and the cleaning mechanism are great features that make it a great option for both experienced and new shavers.
Final words
If you are searching for a shaver that will give you a close shave, this one gives you a close shave as compared to any other electric shaver due to the 5-blade system. Apart from that, it has a powerful motor that ensures you get a close shave with just a few passes. However, it may not be easy to cut tight areas like the lip and chin areas because of its large head. Just like any other foil shaver, it makes a lot of noise when shaving. It comes with advanced features to give you exactly what you want. From the above Panasonic ES-LV95-s arc5 electric razor review, it is clear that purchasing this shaver is a worthy investment. You can order it now from Amazon.