Whether you're a first-timer making the switch to an electric shaver or you're probably in the market to replace or upgrade your current shaver, you've got several options to choose from as shavers come in either rotary types or foil types. We'll be discussing the best rotary shavers in this article and we'll start with what these shavers are in general.
What is a rotary shaver?
A rotary shaver as the name suggests is made up of three cutters rotating inside the three circular-shaped heads. These cutters cut the hair seized by an external immobile guard. The heads usually bend inward to get nearer to the skin while a pivoting system also helps it conform easily to the body's contours.
Why should you choose a rotary shaver over a foil shaver?
There are a few advantages to using a rotary shaver over a foil shaver. Although it will not be suitable for everyone, there are still some benefits, part of which we will briefly highlight below.
Cuts longer and thicker facial hairs better
Works quietly with less noise
Less-demanding shaving
Suitable for head shaving
Just as much as there are advantages to using this type of shaver, there are also a few disadvantages. The market for rotary shavers is dominated by Philips as most other brands seem to struggle to come up with equally excellent products. Though there are still a few other brands with decent rotary shavers, the number of options aside from the Philips brand is limited.
Also, you'll have to be really careful with using a rotary shaver if you have sensitive skin. Rotary shavers are meant to be used in circular motions and going against this can cause sudden pinches or squeezes.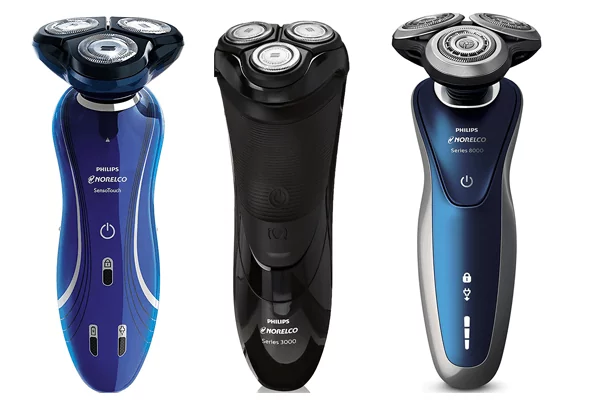 Things to check out before buying your rotary shaver
There are a few things you'll be better off checking out in your shaver before splashing the cash. We'll briefly discuss these starting with the brand name.
Be wary of the brands
Only a few manufacturers make really good shavers and the market is dominated by Philips. So, before you go finally make the jump for the other brand you've been seeing lately, research properly to ensure you are not paying for a knockoff or substandard product.
Performance features
You can check the features for an average idea about the expected performance. Check out specs such as the runtime, a quick charge feature, a travel lock and more. The best rotary shavers should have a decent distribution of these features.
Wet/Dry shaving compatibility
We said something about this in our Best Electric Shavers for Women article. Some shavers are suitable only for wet or dry shaving while some can easily handle both. The Philips Norelco Electric Shaver 8900 is able to handle both excellently and is actually one of the best rotary shavers available today.
1. Philips Norelco Electric Shaver 3100, S3310/81: [Best Electric Shaver for Men]
Product Highlights
The Philips Norelco Electric Shaver 3100, S3310/81 holds the double title of the best rotary shaver as well as the best electric shaver for men. The rotary shaver is super comfortable to use and for less work, you can get a more comfortable, easy, and clean-looking shave. You get to avoid nicks, cuts, and irritations to your skin as the comfort cut blade system go smooth and easy on your skin. It is rechargeable and comes with 4-direction flex heads that move in 4 different directions to reach every curve of your head, face, or neck.
The Philips Norelco Electric Shaver 3100 is the product to beat. A smooth and comfortable shave, easy use and cleaning, a decent array of functions, and a ridiculously low price make this a bargain you'll find too hard to ignore.
2. Philips Norelco Electric Shaver 8900
Product Highlights
The Philips Norelco Electric Shaver 8900 takes perfection to a whole new level with this highly efficient shaver which not only excels as one of the best rotary shavers but as one of the best shavers for men and women in the market today. Each shaving head is designed to move in eight different directions and so would easily outperform other types of shavers by as much as 20 percent. It is also wet and dry shaving compatible so you don't have to worry about using your favorite shaving gel or cream. This gem of a shaver is comfortable to use and clean and has a runtime of 50 minutes.
For those of us who see shaving as serious business, spending a few more dollars for a top-of-the-line product like this Philips Norelco Electric Shaver 8900 is just the right thing. With this, shaving will always be fun and as comfortable as it can get.
3. Philips Norelco Shaver 4100
Product Highlights
Affordability and superb performance with great features to match are the major things that made the Philips Norelco Shaver 4100 the top choice of a lot of shavers. It is one of those few shavers that have been able to withstand the test of time as it has been around for quite a while. It has several features, among which are its dual precision heads that make it very quick and comfy to deal with both short and long hairs. Others include the Aquatech technology that makes it suitable for use with shaving gels or foam as well as an integrated pop-up trimmer for shaving the remotest of places such as the moustache, sideburns, and more.
Although you'll need to change the shaving head after every 12 months, the Philips Norelco Shaver 4100 still offers a great value. It performs excellently well and retails for almost half the price of the premium Philips Norelco Electric Shaver 8900.
4. Philips Norelco 1150X/40 Shaver 6100 
Product Highlights
Formerly known as the SensoTouch 2D 1150X, the brand new Philips Norelco 1150X/40 Shaver 6100 offers great functionality with specs and performance that will change your experience. It features among others the contour-following Gyroflex 2D system meant to easily shave hairs from every curve of your face without pressure and irritation. It also features the DualPrecision heads which are designed to handle both long and short hairs with equal excellence. It is also equipped with the Aquatech technology to suit both dry and wet shaving.
For a smooth, comfortable and close shave, the Philips Norelco 1150X/40 Shaver 6100 seems a great choice when you need the best rotary shavers that money can buy now. If you don't mind the extra cost, this Philips Norelco 1150X/40 Shaver 6100 may simply be the best you ever had.
Frequently Asked Questions
Conclusion

So much can be said of rotary shavers but nothing comes close to their easy operation and efficiency at handling long and short hairs. From among the best rotary shavers reviewed above, you can easily purchase one and start enjoying a clean, close, smooth, and good-looking shave.